Carnival games for kids birthday party
Contact us for customized and original carnival games or search your perfect birthday activities below:
Carnival games for kids birthday
We offer a large panel of carnival games such as air shooting gun, archery, throwing can, dunk tank, mini golf and enjoyable mini bowling activities.
Where to find carnival games in Bangkok?
If you were looking for places Where to find carnival games in Bangkok? Contact us for the Best Carnival games for kids birthday party in Bangkok. Carnival games for kids birthday party in Bangkok can be an incredible experience. We are available in Secret Garden Bangkok and  at many Bangkok  amusement parks directly close to the absolute greatest, baddest roller coasters in the nation. Fanatics of these  games for kids birthday party can discover our top choices in Bangkok amusement parks.
Air-gun shooting anywhere in Bangkok. In case our Bangkok area doesn't work for you, essentially source a space to hold your amusement in and let us know where it is. Our mobile calls implies that we're continuously travelling to set up and have games at your nearby stop, indoor center, private property, tennis courts or any other appropriate space! No matter where you are, we bring the Air-gun shooting in Bangkok Tag activity to you with ours for kids birthday party!
Archery Carnival game in Bangkok, we will custom make a few archery game solutions for extraordinary occasions of all shapes and sizes. From real Olympic archery games, to suction darts, and even video forms- ready to make an arrangement custom for your extraordinary occasion. With the popularity of the Hunger Games and films like Brave, archery and arrows is more well-known than ever. Let us host your Carnival games for kids birthday party.
Throwing can carnival game rental in Bangkok is an activity that uses muscle power to stamp out the cans on the table. This activity requires a couple of balls and cans, very similar to blowing when you strike the pin down. All Throwing Can in Bangkok does is hand over a few soft playground balls and let the kids take turns attempting to knock a push of bottles down! Preschoolers have a ball (wink, wink) with this activity—and, unbeknownst to them, they're too getting a chance to practice physical skills they're still within the preparation of mastering. Let us Carnival games for kids birthday party.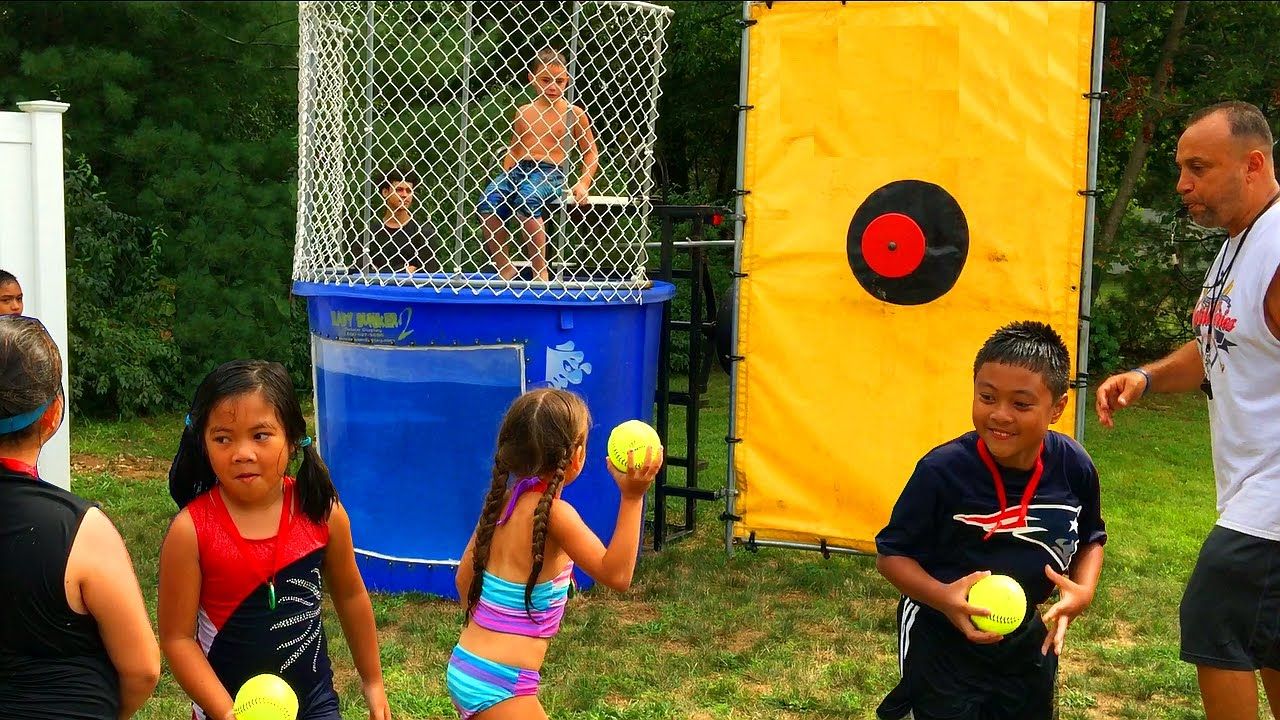 Dunk tanks are a stunning new fascination for kids' birthday parties! In case you're searching for a fantastic game that will truly be memorable at your next party, for a reasonable price, at that point dunk tank rental from us is the best option! The dunk tank rental from us is turning out to be quite possibly the most famous, coolest attractions of our whole inventory so don't pass up a major opportunity! Make your dunk tank booking today at our offices, which is open 24 hours. Simply call us and your dunk tank will be delivered to you!
Mini golf carnival game for your event in Bangkok is a fun open-air movement for kids that be played as a group, or as a fun family activity. Mini golf in Bangkok, presently, it is reasonable in case the idea of letting your kids hit small, difficult balls with metal sticks scares you. In any case, with appropriate arrangement, mini golf can be a pleasant and vital family evening or evening out. Let us host your Carnival games for kids birthday party.
Mini Bowling for kids' party in Bangkok combines all the activity of conventional bowling with a littler, more fast-paced bowling encounter. Fundamentally mini bowling alley it could be a sport or relaxation action in which a player rules throws a bowling ball towards a target. It is one of the major shapes of throwing sports. In pin bowling variations, the target is more often than not to knock over pins at the conclusion of a path. Thus, in common, one point is scored for each stick that's knocked over. So, if a player bowls over three pins with the primary shot, at that point six with the moment. The player would get an add up of nine points for that frame.
Contact us now to bring your birthday ideas to life!
Your children's birthday party is important to us. With our Thai & international team of event planner and animators, we got tons of original ideas to share with you to make your kids' birthday party memorable for their whole life. Whether you are looking for artistic , sport, adventure or creative activities, we got you cover for your special day. Moreover, we provide decorations, venues, inflatables, costumes, shows and much more for your kids' birthday party in Bangkok. Or get into the future with our innovative virtual reality based birthday parties!
You are looking for original and unique ideas for your children birthday party? We got a tons of them and will be glad to share them with you based on your requirements. Start planning your awesome birthday party in Bangkok. Your child birthday party matters to us!