Another incredible and fun way to celebrate your kids birthday is henna art for kids birthday party where kids and adults both can participate in having a henna art design on them. This makes everyone in the party have a great time entertaining themselves with great art that is suitable and comes in a variety of styles. 
Henna art for kids birthday party will be a memorable celebration of your kids life and it is important that loved ones gather can share this beautiful moment with you in happiness, fun and joy. Henna art for kids birthday party  often represent devotion and vitality hence "Vince and Leaves" reflecting any negative spirits that's why we are strong supporters of this event that brings fortune and good luck to our guests and want for everyone to keep their SWAG.
Henna art for kids birthday party is an amazing and ancient form of all natural temporary body art that is fit for any festive occasion. Henna art for kids birthday party has been popular in many cultures and especially for celebrating events such as birthdays, weddings, engagements or other celebrations of happiness and can be also associated with blessings which are perfect for kids' birthdays and henna art design is recommended for anyone who can sit still for the artist to design it on them and allow henna to dry 15 to 20 minutes. 
Kids birthday party Bangkok are offering special birthday art design packages that are to the satisfaction of every guests and are a great glamour art addition for the event and it can be done on hands, face, arms shoulder, feet and ankles. Henna art for kids birthday party artists are available at your request for the kids party.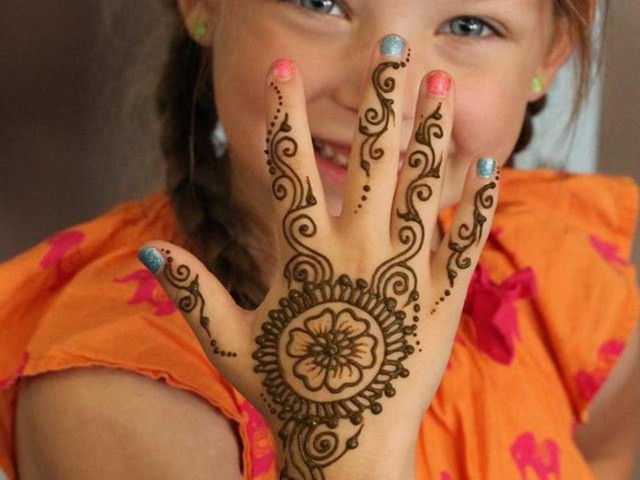 Henna tattoo for kids birthday party
Plan the best henna art for kids birthday party and any design will be fascinating enough for you to see it on your body and nothing will be too complicated from a string of flowers to animal, heart, sun & stars, or teddy bear style designed art that shows love and warm towards your kid on the event day. 
Henna art for kids birthday party is an outstanding party package and using natural henna makes it unique while offering a variety of fun options that both teens and kids can enjoy having it designed. Nothing is short of creativity and skills of our professional artists and everyone is welcome to share their thoughts and creativity during the event.
Best henna tattoo in Bangkok
Best henna tattoo in Bangkok have the best featured artists will provide you with the design to your liking at your kids birthday party,  henna art for kids birthday party is an ancient art and we offer our guest to experience this art that is super high quality traditional and contemporary henna design with all the best natural ingredients for skin that is included in henna itself. It will be also very fascinating when you see every guest wants to wear a henna art design for your kids birthday. 
Our beautiful henna art designs are too beautiful to be ignored, it will keep everyone preoccupied while you are drinking, dancing and enjoying delicious food. The most popular choices or symbols are like birds, animals or flowers amongst many people whether they be men or women, that's why henna art for kids birthday party lovers like to have designs on their arms, their back or feet where traditionally most people go for hands. Let us plan your next birthday party full of creativity and fun. 
Contact us now to bring your birthday ideas to life!
Your children's birthday party is important to us. With our Thai & international team of event planner and animators, we got tons of original ideas to share with you to make your kids' birthday party memorable for their whole life. Whether you are looking for artistic , sport, adventure or creative activities, we got you cover for your special day. Moreover, we provide decorations, venues, inflatables, costumes, shows and much more for your kids' birthday party in Bangkok. Or get into the future with our innovative virtual reality based birthday parties!
You are looking for original and unique ideas for your children birthday party? We got a tons of them and will be glad to share them with you based on your requirements. Start planning your awesome birthday party in Bangkok. Your child birthday party matters to us!